JOIN US AT 9 & 10:30AM
417 S JACKSON ST, MOSCOW ID
Nestled in the heart of the Palouse region of the inland northwest,
Venture Palouse is happy to call Moscow, Idaho home. Our campus
sits on the border of Washington and Idaho, serving our friendly,
multi-generational population.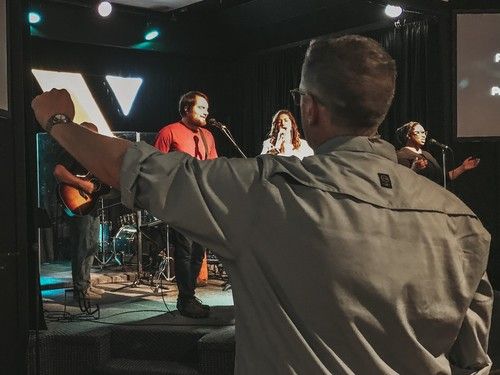 Venture Palouse is one of several campuses that make up Venture Church. While we strive to feel like ONE church, our personality, events, and service times are unique to our location.
Our core values and mission remain united: We are a family of believers who rally around the mission of Jesus Christ, participate in community, and lead lives of generosity that make a difference.
Join us for services in-person at
417 South Jackson Street, Moscow, ID 83843
or online on
YouTube.
Service times are 9:00 & 10:30a.
When you visit us in-person, our guest care teams will greet you and help you get comfortable as well as help you check your kids in at
Venture Kids
.
We can't wait to welcome you!
There are many ways to connect with what's happening at Venture Palouse, find fellowship, and serve with our community. The two primary ways being Groups and Events.
Groups are open to join twice a year in the Spring and Fall. These help develop a stronger relationship with Jesus, as well as one another. Learn about ongoing events in our newsletter or by connecting with us on
Facebook
or
Instagram
.
A Special Welcome From Campus Pastor Scott Underwood
Welcome to Venture Church's Palouse campus. I am glad you have chosen to spend a few moments looking around, discovering our church family. As I describe Venture Palouse to people, I use words like 'community' and 'family.'
We are a group of people committed to following Jesus. That means we worship him with passion and joy. That means we encourage prayer in church and throughout life. That means we love people outside the church through mission, community, and generosity.
Our hope is that all people will feel loved and welcomed at Venture Palouse. And once here, we pray that people will meet God and as a result of meeting God, give their lives to Jesus Christ. We want that for you. Come as you are.
There's always something coming up at Venture on the Palouse
Come to Trunk or Treat at Venture on October 31st! Trunk or treat is a fun safe environment for you to bring your family to trick or treat. We will have our parking lot filled with trunks of candy and goodies! We will also have hot chocolate and cider for you to enjoy. We love our Palouse community, and to show our love, this is a completely free event! Sign up below to be a part of this event and decorate your trunk!
This is how we get into community and grow together as a church. We LOVE Groups. on October 10th we will be starting up our fall groups! Join us as each group gets back into the word of God by going through our series called ROOTED.
We believe in the power of prayer. Join us in-person every Tuesday at 7pm as we worship, pray, and listen.
One of our greatest commitments as a church is to help our children know the love of Jesus Christ. We cultivate a fun and accepting environment where kids can be themselves, exactly as God intended. If you would like to know more, or be a part of this team, contact our Kids Ministry Director by clicking the button below!
We love welcoming new people to our church family! When you enter our building the first people you will meet are on our Guest Care Team. They are here to help you check in your kids, grab a delicious cup of coffee and help you find a seat. If you love meeting new people, then this team is for you! Click the button below to learn more.
We are a vibrant community of men and women who love Jesus! We love to support each other and have many events happening throughout the year that pertain specifically to men and to women as well as couples.
Contact us below if you would like to get involved in the Men's or Women's Ministries at Venture Church!
We love serving our community a warm cup of coffee on Sunday mornings. This team helps keep our services hopping by always being there with a smile and a big caffeine hug. Find them downstairs in our REACH cafe area and grab a free cup of joe! If you'd like to serve on this team, then just click the button below!
We are a church who knows the value of worship. We believe in worshipping with our lives as well as through music. You can be a part of our creative team in multiple ways by joining our worship team, sound and media team, or even hosting a service. Contact our Worship Director by clicking below.
Our youth ministry is a growing and thriving community of young people who are on fire for Jesus. We serve a wide range of students from 5th to 12th grade and meet every Sunday in the church at 6pm.
Venture Palouse is passionate about partnering with and serving our community. Through Venture Church's REACH Initiative we are able focused in our efforts of local outreach, planting churches, and support missionaries globally. Learn more about the REACH Initiative and how we serve by clicking the link below.