Jesus said, "Let the little children come to me..."
Venture Kids Ministry partners with families to invest in the spiritual development of kids. We want all kids to understand that they are a part of God's Big Story. At our weekend services we provide fun and safe environments for kids to learn and grow. We are passionate about introducing kids to a relationship with Jesus through live teaching of Bible stories, fun activities and faith developing small groups.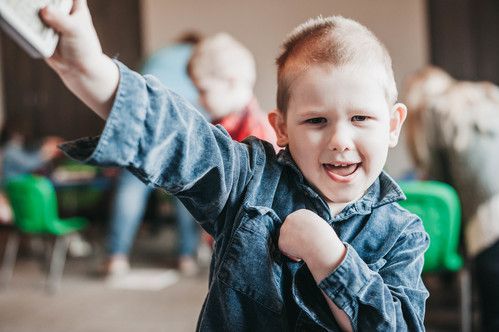 Age Specific Environments
At our Central campus we have five different age-specific environments for your child
The focus of our nursery is to provide a safe, calm environment for our youngest children so parents can enjoy a worry-free worship experience.


The focus of our toddler space is to begin teaching kids how to engage with Bible stories. Our time consists of story time, craft time, and play time. Our toddler environment is a potty training friendly environment.


The focus of our preschool space is to teach kids more foundational truths about Jesus, the Bible and church. Our time consists of worship, story time, activities to help them understand the day's lesson, small group time and play time.
Our elementary space is a fun environment designed to help kids go even deeper in their understanding of Jesus, the Bible and the church. Every week we have a great time playing, worshipping, learning, and doing fun activities in age-based small groups.
Our 5th and 6th graders have the opportunity to take their faith deeper with an age-specific small group time, live worship and teaching, and opportunities to serve within the kids area during the 10:30AM service each week. This group will also have fun weekday activities once every few months to build community.
Venture also offers a "special needs" space for children ages Pre-K through Elementary. This class is offered at our 9am service at our Central campus and provides a safe sensory environment for kids of all abilities. Our special needs class will be staffed with experienced teachers who are passionate about helping special needs kids learn more about God, with opportunities to integrate into age appropriate kids worship depending on the needs of the child.
At Venture Church, the safety and security of your children is a huge priority to us. That is why we've chosen KidCheck as our children's check-in solution to bring you the best check-in experience and to allow us to partner with you to keep your children safe.
We have a Guest Check-In kiosk located in the Kids Ministry lobby at our Central Campus, where we have experienced volunteers who can help enter your child into our check-in system.

If you want to avoid a potential line at the Guest Check-In kiosk, we invite you to register your child for check-in prior to your visit using the KidCheck button below. You can also download the KidCheck app for iPhone or Android using one of the links below. This will allow you to check in as you drive onto the property as well as receive notifications during service should your child need you.

Once your child is checked in (either on your mobile device or at a check-in kiosk) ID tags for your family will be printed at a specified station. Both you and your child will have matching identification tags exclusive to your family. Your child will wear one tag while you keep the other matching tag. After the service, you will return to your child's room and show your tag in order for your child to be released back to you.

In the event that we do need to contact you during the service, your child's identification code will appear on the screen in the auditorium. We ask that you exit the auditorium immediately and look for a staff member or volunteer who will direct you to your child's room.